ABM — or, Alpaca Baby Moment — is a special encounter with a baby alpaca that happens just once or twice in a person's life. It only makes sense to prepare for this onslaught of utter adorableness.
While it's essential to grasp the concept of an Alpaca Baby Moment before you find yourself having one, the other kind of ABM is important, too.
For B2B companies, Account-Based Marketing (ABM) is a marketing-sales approach that targets a list of ideal buyers. An ABM campaign consists of customized emails, videos, blog posts, and ads meant to build relationships with the baby alpacas decision-makers in each account.
At this point, you're probably wondering…
What are some ABM campaign examples? Here are 8 examples of successful ABM campaigns:
If you'd like to brush up on a few ABM basics before diving into the examples, here are the other Qs we're answering today:
What is an ABM Campaign?
What is an ABM campaign? An account-based marketing (ABM) campaign is a concentrated B2B marketing and sales effort focused on key decision-makers. The goal is to personalize the buying experience for each person in the target account through helpful content, direct messaging, email, video, and more. Then, ideally, they become a customer.
There are several different ways to run an ABM campaign. But first, let's look at why you'd want to do it at all.
Why Run an ABM Campaign?
Basically, you might run an ABM campaign to…
Grab the attention of an ideal buyer (which — in the case of B2B — is an entire group of people)
Keep their attention as they start to build trust with your brand
Be top-of-mind once they're ready to make a purchasing decision
In addition to those advantages, there are a few more benefits of running an ABM campaign.
Benefits of Running an ABM Campaign
The pros of executing an ABM campaign include…
Naturally aligning your sales and marketing teams. Even CS gets in on the action. You've got to have a well-oiled ABM machine offering consistent messaging on all fronts.
Your rapport with high-value accounts increases. When you successfully personalize the buying experience for top decision-makers, your brand affinity skyrockets.
Easy-to-measure ROI. You either land the account or you don't. Keep in mind, it takes months for high-value accounts to make purchasing decisions. There are a lot of moving parts.
Turning your sales cycle up to 11. Instead of chasing around a ton of not-so-qualified leads, Sales can focus on landing a handful of high-impact accounts.
Less churn. Being a personalized approach, an ABM campaign naturally builds strong, lasting relationships with decision-makers. There's nothing superficial about it.
More advantages of running an ABM campaign include more efficient use of marketing budget, a shorter sales cycle, and a better customer experience.
[HEAR/READ: Wanna read up on ABM? Here's every book written on ABM summarized and rated for your convenience. :)]
If you're in the B2B space, there's really no reason not to use an ABM approach for at least a few of your ideal buyers. Unless you're not into money.
How Do I Run an ABM Campaign?
How do I run an ABM campaign? To run a successful ABM campaign, follow these steps:
Identify your ideal target accounts.
Identify the decision-makers within those accounts.
Decide between a one-to-many, one-to-few, or one-to-one campaign.
Create a content plan.
Carry out the content plan.
In reality, your ABM campaign can be as complex or simple as you want. It all depends on your business's objectives.
If you're just getting started, though, use these five steps as a framework.
1. Identify Target Accounts
Who's your audience? What does your ideal buyer look like? How many target accounts can your team handle?
The accounts you choose to target should match your ICP (Ideal Customer Profile) pretty perfectly. If you're spending the time and resources to personalize a company's buying experience, make sure it's going to pay off.
For example, the accounts Sweet Fish targets are mainly B2B SaaS companies with 100 employees or more.
2. Identify Decision-Makers
Once you have a list of your target accounts, look into each of those accounts to determine who the decision-makers are. Normally, the people making purchasing decisions are at the executive level.
Depending on the solution you're offering, you might be targeting the CEO, CFO, VP of Sales, COO, or CMO. Who are the people that are ultimately making the decision to buy your solution?
Sweet Fish tends to focus on VPs of Marketing. However, you might need to focus on multiple decision-makers within one account.
3. One-to-Many, One-to-Few, One-to-One
A helpful way to look at your ABM campaign is to categorize it as one-to-many, one-to-few, one-to-one, or a combination of the three.
These categories help you determine how custom your content needs to be.
One-to-many: While it's not on a scale as large as inbound marketing, the content isn't going to be super customized. You're still using automation to reach out to a big audience but there should be segmentation in place. A one-to-many campaign might attempt to attract professionals in a niche industry.
One-to-few: Here, you're marketing to a smaller audience so your content can be more customized. You might be trying to build relationships with a specific role within a niche industry. Some automation is still necessary but things like follow-ups and gifts should be personalized.
One-to-one: Everything in a one-to-one campaign should be personal — not just personalized. The written content, videos, emails, and gifts need to be custom-made for the people in the particular account. Very little — if any — automation should be used in a one-to-one campaign.
The type of ABM campaign you carry out will depend on the value of the account. The more meaningful the account is to your company, the more attention you'll give it.
"The more sophistication and customization you bring to every single piece, the more it's going to resonate."

Dan Sanchez, Sweet Fish
4. Create a Content Plan
Whether you choose one-to-many, one-to-few, one-to-one, or a mixture, it's important to create a content plan to keep track of the campaign. The easiest way to do this is to make a content grid.
Establishing a content plan for each of your accounts is how you'll successfully personalize their buying experiences. Plus, everyone on your team will understand the purpose and timeline for each piece of content.
"The more personal or one-to-one the experience is, the better your engagement and overall outcome will be."

Nick Bennett, Alyce
5. Carry Out the Content Plan
Getting it planned out is the hardest part. Now, you just have to make the content.
[HEAR: Is LinkedIn one of your ABM channels? Here are 5 free LinkedIn ABM tactics that have been tested.]
From your content plan, you should know…
What the content is
Who the content is targeting
What channel the content is being delivered by
Who's creating the content
When the content needs to be done by
All of these aspects should be clear to your team in order to carry out an effective ABM campaign.
8 Examples of ABM Campaigns That Slay
You've got the fundamentals. Now, find out how your team can layer creativity on top of the basics to make a killer ABM campaign.
These examples from B2B companies might give you some inspo. ✨
1. Salsify (One-to-Few)
Working with huge brands like Target and Wayfair, Salsify helps retailers make meaningful connections with their customers on the digital front.
The Goal
When they were preparing for a road-show event in NYC with behemoths like Google and Johnson & Johnson speaking on their behalf, Salsify wanted to land 60 more registrants. They decided to use an ABM approach to reach their attendance goal.
What They Did
Salsify targeted their list of accounts by…
Proactively sending out custom messaging
Following up with targeted display ads
Sending out personalized emails
Passing extremely qualified leads on to the sales team
The Results
Through their targeted efforts, Salsify wrangled up 82 registrants just two hours after Sales had reached out.
"It really shows the power and the effectiveness of focus, messaging, and collaboration that account-based marketing brings."

Aaron Doherty, Salsify
2. Robin (One-to-Many)
As a SaaS solution that helps businesses of all sizes manage hybrid work, Robin works with teams including the almighty GIPHY, Fender, and Peloton.
The Goal
Being a tech solution for offices isn't super sexy. Robin knew the impact they'd had on current customers, but it was difficult to translate that for potential buyers. They were looking for a way to increase website traffic and at the same time show ideal buyers tangible results they could achieve.
What They Did
Robin used the best source of content they had: their customers.
The team highlighted customers' office spaces that they'd helped create. Tangible, sexy stuff like this. 👇
Then, with these images, they targeted ideal accounts through social media and paid advertising. People could see what their future office space could look like.
The Results
Robin increased site traffic by 50% and leads by 20%.
3. DocuSign (One-to-Many)
The #1 solution in electronic signatures and agreements, DocuSign, makes paperless contracts simple.
The Goal
Wanting to hike up their traffic, DocuSign opted for an ABM approach. Increasing click-thru-rates was the priority in addition to boosting the number of conversations with the accounts most likely to buy.
What They Did
The DocuSign team initiated a targeted display ad campaign for over 450 enterprise accounts. The ad messaging was personalized to buying stage and industry. Six industries were targeted with specific images, logos, and testimonials.
Additionally, content offerings were customized according to the specific industry.
The Results
Results of DocuSign's ABM campaign included…
22% increase in sales pipeline across the six industries
59% engagement rate
300% increase in page views
26% decrease in bounce rate
4. Personify (Mixture)
Personify is a Constituent Management & Engagement (CME) platform that provides holistic views of organization members.
The Goal
The SaaS solution providers needed more insight into their target market as well as what was impacting their sales pipeline and revenue. They chose to take an ABM approach.
What They Did
Personify initiated a full-fledged ABM program. First, they identified their ICP and made a list of their top accounts. Then, they segmented the target markets and personas within them.
Next, Personify launched a series of personalized ad campaigns according to the specific buying stage, company, and persona. Additionally, Personify beefed up their brand awareness and lead nurturing campaigns.
The Results
Within 11 months of starting their ABM program, Personify began seeing results. Some key outcomes were…
39x more engaged site visitors
47x more ROI on contributed pipeline
25x more ROI on contributed revenue
8.5x more ROI on marketing-sourced revenue
5. GumGum (One-to-One)
What what is GumGum? GumGum is a contextual intelligence platform that can scan text, images, videos, and audio. Basically, it helps advertisers place digital ads in the spots they work the best in.
The Goal
GumGum's goal was simple. They wanted to land T-Mobile as a client.
What They Did
Because T-Mobile's CEO John Legere is active on social media, it didn't take long for the GumGum team to find that he loves Batman.
Get this: GumGum commissioned and published a comic book featuring Legere as the Batman-flavored superhero, T-Man. T-Man's sidekick? Gums.
Together, T-Man and Gums save the city from bad cell reception via image-recognizing marketing technology. With this cutting-edge technology, Gums helps T-Man get the word out about a better network provider — T-Mobile.
The Results
Unfortunately, GumGum didn't… JK. They landed the account and got a ton of exposure for their ABM campaign.
6. Intridea (One-to-One)
Recently acquired by software design and engineering firm Mobomo, Intridea was a full-service digital agency.
The Goal
The designers and developers at Intridea wanted the advertising behemoth, Ogilvy & Mathers, to hire them for their services.
What They Did
Sometimes you can't beat good old-fashioned outdoor advertising.
Intridea rented a billboard across the street from the O&M offices in Manhattan complete with some confrontational copy.
The team directed the custom URL to Intridea's cofounder's LinkedIn profile, hoping it would result in a meeting request.
The Results
Intridea got the meeting.
This was a one-to-one ABM campaign that probably yielded some extra attention.
7. GumGum Againgain (One-to-One)
GumGum just might be the queen of clever ABM tricks.
The Goal
Grabbing the attention of executives at a company as beefy as McDonald's isn't an easy task. And although it's just one company, there are multiple decision-makers that GumGum needed to wow.
What They Did
The ABM gurus sent out 100 burger kits to Micky-D's execs consisting of all the "ingredients" for a McDonald's Big Mac burger. Each element of the burger outlined one of GumGum's strengths as a media company.
Also in the burger kits were personalized "receipts" that listed the executives' names.
The Results
You guessed it — the creative and targeted campaign helped GumGum secure a meeting with McDonald's decision-makers.
8. Sweet Fish (One-to-Many)
We make podcasts and podcast accessories for B2B brands.
The Goal
When Sweet Fish was just a little guppy, our founder James realized our target market was B2B marketers. They needed podcasts and we knew how to make 'em.
The goal, then, was to increase brand awareness within the B2B space and eventually grow our revenue.
What We Did
In order to build trusting relationships with ideal buyers, we invited them to be on our flagship podcast, B2B Growth.
B2B Growth, by the way, isn't centered around what Sweet Fish does. Its focus is B2B marketing and sales (aka, what our ideal customers do). So, instead of sending out another sales pitch, we invite them to be interviewed on the show.
Turns out, people like being on podcasts more than they like receiving cold emails from a salesperson.
[HEAR/READ: We get deeper into the details of using a podcast for your ABM campaign here. It's worth a peek. 🤓]
The Results
B2B Growth is an ongoing ABM campaign. Our team has been able to target and meet hundreds of B2B thought leaders, doing business with many of them.
With over $3m of revenue generated and over 4 million downloads, we're gonna keep doing B2B Growth for at least a little while longer.
Get Creative w/ ABM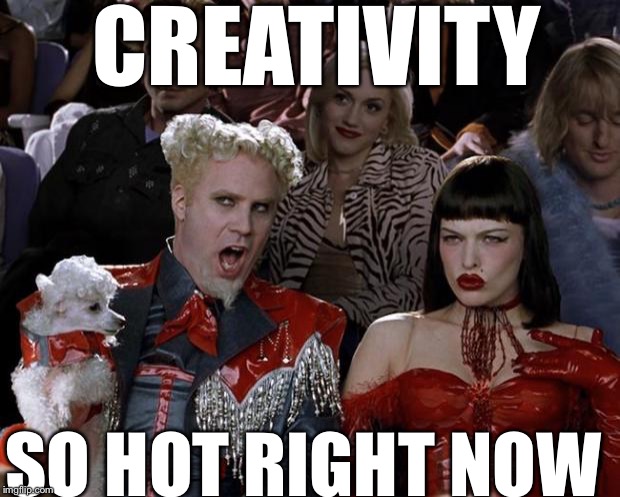 You can research ABM best practices until your eyes bleed, but the real success comes from getting creative. Hopefully, these eight ABM campaign examples have inspired you to develop something whimsical and imaginative of your own.
For more tasty ABM nuggets, subscribe to B2B Growth on Apple Podcasts, Spotify, or wherever you listen to podcasts.