Every Book on ABM Compared (I Read Them All)
In this episode, I review every book I read on Account-Based Marketing and give recommendations on which books are best and for who.
---
Life is too short to read (or listen to) a bad book.
If you're in the same boat I was, I wanted to know what the very best books on ABM (Account-Based Marketing) are. I figured reading 11 books on ABM and sharing my thoughts and ratings of them would benefit you and me both, so I did. 🤓
What are the best books on Account-Based Marketing (ABM)? The most useful books that will help you master ABM include ABM is B2B by Sangram Vajre, Account-Based Marketing by Chris Golec et al., Unleash Possible by Samantha Stone, The Book on Account-Based Marketing by Bassem Hamdy, and Content-Based Networking by James Carbary.
Here's the entire list of books with links to their summaries:

Rating Scale: 1 = meh, 2 = somewhat useful, 3 = good, 4 = darn good!, 5 = love
Now let's take a closer look at these books and their authors.
ABM is B2B
Authors: Sangram Vajre & Eric Spett
Buy it on Amazon
As the co-founder of Terminus, Sangram Vajre is one of the top thought leaders in the ABM space. He was doing ABM before it was cool.
In 2014, Sangram started the FlipMyFunnel Community to provide a place for B2B marketing and sales pros to cultivate the account-based marketing mindset. One of the many resources in the community is The #FlipMyFunnel Podcast that Sangram hosts.
ABM is B2B, while a bit longer than I thought necessary, defines ABM really well. It's a great starting place for beginners in the space.
Account-Based Marketing for Dummies
Author: Sangram Vajre
Buy it on Amazon
I promise this isn't a paid Sangram Vajre plug. I just happened to read his two books because he's seriously the master of ABM.
I didn't enjoy this one as much as ABM is B2B because of its lack of stories and real-world applications. However, the detailed outline — per usual for Dummies books — is very informative.
Account-Based Marketing for Dummies is a good book to have on hand for any bumps you run into along the way.
A Practitioner's Guide to Account-Based Marketing
Author: Bev Burgess
Buy it on Amazon
Bev Burgess is a leading expert in everything B2B marketing. As an accomplished marketer and businesswoman, Bev currently helps companies build their services and solutions businesses by using her keen market insight.
A Senior Advisor at ITSMA and Manasian & Co., Bev's background includes senior roles at British Gas, Epson, and Fujitsu.
To put it plainly, I found the first half of this book to be a struggle. It's extremely dry and dense but starts to come together in the second half. There's no secret why it's called a practitioner's guide.
In the end, A Practitioner's Guide to Account-Based Marketing thoroughly describes ABM using first-hand research and a ton of case studies.
Account-Based Marketing: How to Target & Engage the Companies That Will Grow Your Revenue
Authors: Chris Golec, Peter Isaacson, & Jessica Fewless
Buy it on Amazon
Throughout the last 20 years, Chris Golec has built three very successful tech businesses including the one he leads now: Demandbase. Additionally, The Software Report featured Chris in their list of the Top SaaS CEOs in 2018 and 2019.
His team at Demandbase — including co-authors Peter Isaacson (CMO) and Jessica Fewless (VP, ABM Strategy) — is dedicated to transforming the way businesses sell to other businesses.
Account-Based Marketing is one of the books in this list that caters to large enterprises wanting to learn how to integrate ABM into their sales and marketing strategies. The book describes tactics for successful change management and how to perform an organizational assessment.
Buyer-Based Marketing: Widening the Net of Account-Based Marketing
Author: Matthew Kraska
Buy it on Amazon
With an exceptional passion for marketing and sales, Matt Kaska currently works as the Director of Marketing at Multisorb Technologies. His Buyer-Based Marketing system (outlined on his website) has developed over the years through "failing fast and often."
I thought Buyer-Based Marketing started out firing on all cylinders, but I soon realized that Matt speaks more about inbound marketing than ABM. If you're looking to learn how to mix ABM into your marketing and sales strategies, don't reach for this one.
No Forms. No Spam. No Cold Calls.
Author: Latané Conant
Buy it on Amazon
This 6sense CMO comes from a background colored with sales, accounting, and consulting. While she's not a typical marketing exec, Latané Conant doesn't shy away from crafting go-to-market strategies, driving change within her global team, and tirelessly watching the numbers.
Not to mention, Latané uses ABM to market an ABM platform to other AMBers, so she's neck-deep in ABM on a daily basis.
I feel that No Forms. No Spam. No Cold Calls. is a useful book for B2B enterprise leaders who want to launch an ABM campaign and need help with the change management aspect. This read wouldn't necessarily benefit marketers or salespeople in a startup or small organization.
The Book On Account-Based Marketing
Author: Bassem Hamdy
Buy it on Amazon
Bassem Hamdy, the CEO & co-founder of briq with 20 years of leadership in B2B SaaS under his belt, brings harmony to the construction industry. Through the delivery of modern tools, Bassem helps contractors make safer and more cost-efficient decisions in the field.
A trusted expert by many in the B2B space, Bassem has built several world-renowned software brands and led vastly diverse teams. By combining his experience with his creative and sales-savvy genes, he's come up with the pithiest definition of ABM in my mind.
The Book on Account-Based Marketing paints the most complete picture of ABM in the fewest number of pages. With a captivating story to boot, Bassem's book should be on every salesperson's and marketer's shelf.
Unleash Possible: A Marketing Playbook That Drives Sales
Author: Samantha Stone
Buy it on Amazon
Samantha Stone is all about fast growth and helping business leaders unleash the possible (ha, get it?) within their organizations. For nearly a decade, Samantha has been leading the marketing branch of the B2B networking company she founded, The Marketing Advisory Network.
Samantha is a B2B thought leader you should get to know. Not only does she have the experience to discuss high-level ideas but she also has the talent and grit to execute those ideas. Unleash Possible reflects her leader side as much as it does her get-shit-done side.
While this book discusses ABM in relatively good depth, it's only one part of the whole B2B operation. Unleash Possible is a guide to B2B marketing that any executive or marketer will benefit from.
Content-Based Networking: How to Instantly Connect w/ Anyone You Want to Know
Author: James Carbary
Buy it on Amazon
Yep, he's my boss. Yep, this book is that good.
James Carbary knew literally nothing about B2B marketing before he launched B2B Growth (which has been downloaded over 4 million times). Since then, he's gotten to know the brains of marketing's finest by asking them to be interviewed on his podcast.
You might be wondering how Content-Based Networking has anything to do with ABM. Well, ABM has almost everything to do with content-based networking. It's about cultivating a relationship with your ideal accounts over a podcast interview. And it's not just for businesspeople — anyone can use this application of ABM.
I could go on, but you should just get the book. Epiphany guaranteed.
How to Get a Meeting w/ Anyone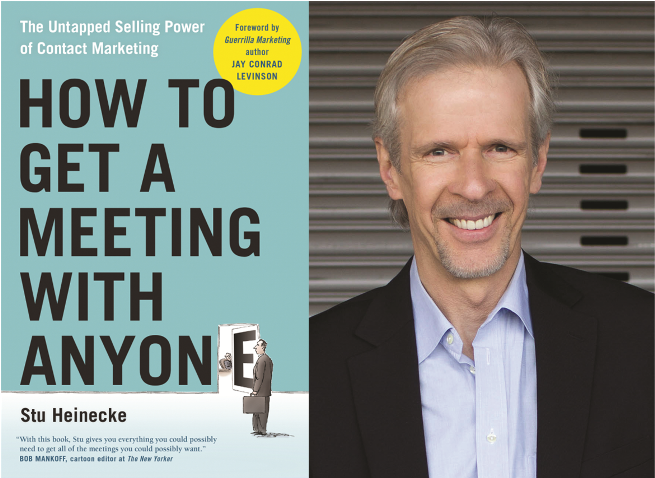 Author: Stu Heinecke
Buy it on Amazon
Known as the "Father of Contact Marketing" by the American Marketing Association, Stu Heinecke helps enterprise and SMB sales teams break through to their top accounts. Stu's system uses micro-focused campaigns to connect with busy executives and decision-makers.
Plus, Stu is one of The Wall Street Journal cartoonists, so you can bet that there are fun illustrations throughout How to Get a Meeting with Anyone.
In his book, Stu goes over different strategies for meeting with busy executives and how to move prospects from engaged to active. This is definitely one to have in your ABM library.
The Ultimate Sales Machine: Turbocharge Your Business w/ Relentless Focus on 12 Key Strategies
Author: Chet Holmes
Buy it on Amazon
As an esteemed corporate trainer and business growth expert, Chet Holmes has worked with names like Pacific Bell, NBC, Citibank, Warner Bros., GNC, and Wells Fargo.
Chet rose to prominence after doubling the sales volume of all nine divisions Charlie Munger (Warren Buffet's business partner) put him in charge of. Talk about growth!
I think that The Ultimate Sales Machine is a great intro to ABM. Many of the tactics Chet discusses are ABM-focused, including his Dream Account list. I'd recommend this book to anyone in sales wanting to rocket-launch their career.
Become an ABM Expert
I hope that you found my comparison of every book on ABM helpful. And hey — I'm just one guy with my own interests and biases. Take my reviews with a grain of salt.
In the end, I learned something from each of these books. I bet you will too.
Have comments on one of my book reviews? Shoot me a message on LinkedIn! I'd love to chat about it.
For more ABM insights, subscribe to B2B Growth on Apple Podcasts or wherever you listen to podcasts.